Happy 4th - Reviews, Reviews, Reviews!!!
By: Alan Quandt - Posted: 2009-07-04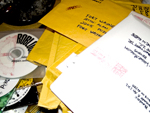 The Reviews Pour in.....
Hey folks. I want to thank everyone who has sent me press kits over the last several months. I have a desk full of kits waiting to be reviewed. As some may know, we just bought our first house a month ago. I now have a "real" home for the FWM (actually FWDMP) Offices. With that good stuff, comes a bunch of preparation. I have finally got the office in a workable order. This has no doubt hindered my ability to keep up with my FortWayneMusic.com work, as my clients are racking up. I spent all of the last few weeks catching up with my work, and I am finally in a position to get to some reviews.
[
Read the Whole Story
]