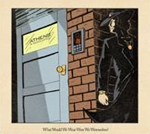 Well the day that I received this press kit and album I was busy as hell and apparently I was only interested in the lyric-less depressing post rock that I had already been listening to all day. I put the album uniquely titled; "What Would We Wear Were We Werewolves" ( WWWW... as I will call it) in my CD-Rom, listened to 40 seconds or so of the first track, then took it out of my computer in a fit of extreme irritation. I had no time for experimental weird shit (pardon my German), so then proceeded to forget about the review all together.
I am glad I did. Here is why:
I realized early last night, that Athens was playing at Berlin Music Pub tonight (Jan 9th). Well, this review would be less than important if I waited until after they visit our fine city. So, I took the press kit with me to my scheduled PMel practice (always multi-tasking) and gave it another chance. This time I let the un-nationally renowned panel of musical Nazi's (otherwise known as my band mates) take a listen to the 7 track disc.
I will be summarizing everyone's thoughts as well as my own from this point on.
Within that first 40 seconds that I previously explored the CD, someone muttered "Ha! If Andy Warhol made music instead of art...". I couldn't agree more. This "re-peaked" my interest (funny, I have little interest in Warhol though) and we decided to continue on.
Throughout the course of offering our ears to the Athen's originals, several more "famous" band names were thrown out there: Talking Heads, Flaming Lips, Man Man, Jane's Addiction, and even the more recent electronic mess of a band; Mindless Self Indulgence. True, many elements of these acts are found on the album.
The instrumental ensemble of Athen's (featuring: Adam Galek on drums, Andrew Yearick on guitar (also, Lead Vocals), Jedediah Olaus on guitar & glockenspiel, and Nick Chupein on bass & synthesizer) never leaves you bored throughout the EP. The tracks switch between a standard rock progression to circus like sections that are slightly reminiscent of "Mr. Bungle" even ancient Egyptian themes find their way into the compositions.
At first listen the backup vocals on the opening track ("The Future") might send you packing (I sure did). Don't give up so fast though! I guarantee that you will at least enjoy listening to the entire album one time through for novelty sake. You will find that the songs carry more than just comical high pitched vocal jabs and start to show a believable underlying seriousness to their songs as the disc moves on.
Do I like this album? Yes. Will it become my next favorite? I doubt it, but since I am such a musical prude that it takes an album several years to get inside my "musical pants" to find a space in my daily playlist. So does that really say much? Nah. I think "WWWW..." will find its way into the hearts of experimental/fun/creepy music fans in whatever city they play.
These guys are playing at Berlin Music Pub on January 9th 2009 at 8pm (as far as the letter I received says). Check them out; if their live show is as interesting as their album, you are set up for a hell of a night. I am sure they will have their disc for sale at the show. If not you can pick it up at CdBaby and iTunes along with a previous release called "The Philosophers".